n January, GARDEN PARTY MASSACRE got another rave review--this time from Horrorpedia. The film also won "Best Acting Ensemble" from the Zedfest Film Festival, where I was thrilled to also recieve their top honor: the Phil Tucker Spirit Award!


The 2017 Phil Tucker Spirit Award


I was interviewed for TrunkSpace's Chilling Out and Angels To Zombies : A Horror Blog. I shot a scene for Jody Barton's FOR JENNIFER--the 4th film in the series. And the month ended with GARDEN PARTY MASSACRE screening at the Anti-Hero Genre Film Festival where we picked up another award for "Best Ensemble"!


With Hunter Johnson at the Anti-Hero Genre Film Festival.
February's filming involved playing slimy henchman Enrico in the new sci-fi pilot CYBORGS, an alcoholic in a webseries called "12 STEPS" and an uninformed cis employee in an industrial training video about transgender awareness by Scott Turner Schofield.
With Markina Brown in CYBORGS.
March meant securing distribution for GARDEN PARTY MASSACRE with SGL Entertainment and receiving FOUR more rave reviews for the film from Indie Horror Online, PopHorror.com, Nick Kelly, and Geek Legions of Doom. Then shooting scenes for Dustin Ferguson's HORNDOGS BEACH PARTY and Christopher Michale Dailey's CADILLAC RESPECT. I also chatted with Nick Kelly about things in a great interview you can read here.
As beach-brained Richard in HORNDOGS BEACH PARTY.
In April, I played Doug, an assassin, in a short called THE BAD BET and Jonathan, a gun-toting flight attendant, in an episode of AbsurdTV. I got offered a role in Dustin Ferguson's new film ROBOWOMAN...and GARDEN PARTY MASSACRE was accepted to the Southern Sykos Film Festival! I also did a "live" interview on Facebook, hosted by the marvelous Aimee Rhea.
Armed in THE BAD BET (l) and AbsurdTV episode 406 (r).
May brought a brand new spotlight and interview from the staff of MyIndieProductions as well as a whole host of auditions. And the full trailer for FANG was released!
In June, I signed on to play Famine (one of the Four Horsemen of the Apocalypse) in Adam Stegert's next film The Horrific Evil Monsters and was a guest on the All About Acting Podcast. MyIndie Reviews did a sweet double review of GARDEN PARTY MASSACRE and DEADLY REVISIONS. The month ended with my award-winning comedy short film noir spoof IT AIN'T ALL BLACK AND WHITE...UNLESS IT IS getting released to the public. You can watch it here:
In July, GARDEN PARTY MASSACRE won a slew of awards from the Southern Sykos Film Festival including one for the acting ensemble, one for cinematography and Best Director Of The Year! We also got another rave review from producer/director Phil Herman. I also started a new elevated horror screenplay--an unforgiving social commentary ala 'Black Mirror'--currently entitled CONVENIENT LIVING.
Top award for GARDEN PARTY MASSACRE from the Southern Sykos team!
In August, GARDEN PARTY MASSACRE screened at the Scares That Care Film Festival and FANG got its first review, calling my stint as Harold "just perfect"! (Thank you, HorrorMovies.ca!) I got cast as a hateful lowlife in TRICK AND TREATS, which features the voice of Malcolm McDowell as Trick. Then, Paul Hyett's HERETIKS (fashioned from a screenplay of mine) had its world premiere at Frightfest in London!
A woman discovers a holy place hides unholy horror!
September meant an interview for Jerry White and Bronson Creative's new podcst Decide To Do It, then flying to Kentucky to shoot the lead in Chase Dudley's BEASTS OF THE FIELD in the rain and mud! FANG (and I) got more good reviews...and GARDEN PARTY MASSACRE picked up more acting awards for the cast in the 2nd annual Lucky Strike Film Festival. Oh...and DEADLY REVISIONS got a new rave review from Dead Celluloid!
In October, I was hired to write a new script, got cast as a lead in a new pilot called I HATE PEOPLE and was interviewed on the Horror Night Podcast. My character from FANG also made the cover of a comic book to be featured in Keith Lukowski's new film 12 Pines Christmas. I finished the script for hire as well as CONVENIENT LIVING and then performed live, on stage! in a Stan Zimmerman showcase with Alicia Ivanhoe and Audrey Mitchell. Then I flew to New York for the world premiere of FANG, filming scenes for 12 Pines Christmas as well as a costume fitting and photo shoot for my role as Famine in The Horrific Evil Monsters.
Comic cover with Harold from FANG...and Famine from The Horrific Evil Monsters.
November had me hitting the American Film Market again and then filming I HATE PEOPLE as well as my scenes for ROBOWOMAN. I was also interviewed by Nick Price and ElderFilmFans then on the Pop Roxx Radio Show along with Amber Daw Fox. Then, I popped up in Aaron Mento's UGLY SWEATER PARTY, and the first official trailers for BEASTS OF THE FIELD and ROBOWOMAN as they all were released as was...

...drum roll...

...the offical release date for GARDEN PARTY MASSACRE! At last! Read about that on Broadway.com.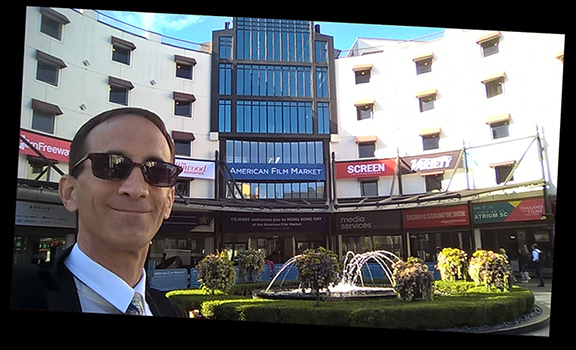 At the American Film Market in Santa Monica.
December had me engaged to rewrite another script to be filmed next year, prepping for the TRICK AND TREATS shoot in January...and hanging with friends and family for the holidays.
Throughout the year, I went to a bunch of screenings and the like--too many to bore you with--but standouts included ....
With Adam Rifkin and Penn Jillette at the L.A. premiere of DIRECTOR'S CUT.
BLOOD FEAST premiere with Tiffani Fest, Nicholas Tana & Denise Acosta.
Finally--as always--I send warm wishes to all you who have stumbled upon this recap. Kind words and deeds become more and more meaningful as our world struggles with the harm that hate, greed and thoughtlessness breed. So be the balm. Be part of the healing. Spread love and warmth wherever you go.

And be fabulous!
~Gregory
Have you see my movies?
My comedy/horror
GARDEN PARTY MASSACRE
and my mystery/thriller,
DEADLY REVISIONS
starring Bill Oberst Jr.
are both on Amazon Prime!
GARDEN PARTY MASSACRE
:
Click here
DEADLY REVISIONS
:
Click here